Performance Training In Temple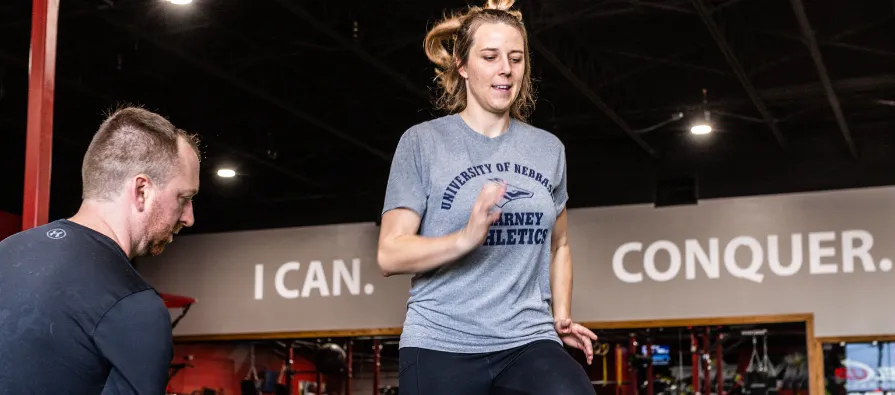 If you're here, it's likely because you're seeking to enhance your performance in fitness or sports. Whether you aspire to increase your foot speed on the field or court, gain extra yards on your golf drives, or simply want to prove that you've still got the game, you've come to the right place. At Gardner Sports Physical Therapy, our mission is to provide you with straightforward solutions to complex performance challenges. We believe that to maximize your fitness and performance, you must first grasp the fundamentals. With the combination and application of cutting-edge techniques at Gardner Sports PT, you can elevate your performance and fitness levels, even if you've been struggling to achieve your goals for years.
Performance Training in Temple
At Gardner Sports PT, we are dedicated to helping you maximize your performance and fitness so that you can continue to exercise and play sports for a lifetime. What sets us apart from the rest is our holistic approach, designed to empower you to achieve your fitness and performance goals.
Our Fitness Philosophy
Our fitness philosophy at Gardner Sports Physical Therapy is all about customization. We understand that there is no one-size-fits-all approach when it comes to fitness and performance enhancement. We tailor our plans based on a wide variety of factors, including your personal interests, skill level, fitness level, and more. Our goal is to ensure that you remain actively engaged in the process, taking ownership of your journey and feeling confident in your ability to reach your goals.
How We Achieve This
When you choose Gardner Sports PT for Performance Training, you gain access to the latest developments in performance and fitness training. Our approach begins with a comprehensive assessment, allowing us to create a customized plan of action that aligns with your specific goals and needs.
Empowering You to Break Barriers
Our ultimate aim is to empower you to break through performance barriers, whether your focus is on muscle gain, sport-specific performance enhancement, weight loss, or simply keeping up with your kids. We believe that with the right guidance and support, you can overcome any obstacles that stand in your way.
Why Choose Gardner Sports PT for Performance Training?
Our Performance Training services are rooted in personalization. We recognize that every individual has unique goals and circumstances. Therefore, we do not advocate for a one-size-fits-all approach. Instead, we work closely with you to design a plan that caters specifically to your aspirations, ensuring that you are on a path that is meaningful to you.
Expert Guidance
At Gardner Sports PT, we pride ourselves on having a team of experts with extensive experience in the field of performance training. Our coaches are knowledgeable about the latest trends and techniques in fitness and sports performance, and they are dedicated to helping you reach your full potential.
Cutting-Edge Strategies
We stay at the forefront of performance training by continually integrating the latest advancements in the field. Our training strategies are evidence-based, ensuring that you receive the most effective and up-to-date guidance available.
Empowerment and Confidence
We believe in empowering you to take control of your fitness and performance journey. Our goal is not only to help you reach your immediate goals but to equip you with the knowledge and skills necessary to maintain and improve your performance for the long term. We want you to feel confident in your abilities, both now and in the future.
Embark on Your Journey Towards Enhanced Performance
Your journey towards maximizing your fitness and performance begins with Gardner Sports Physical Therapy's Performance Training program. Whether you're an athlete striving for a competitive edge, someone looking to achieve specific fitness goals, or simply seeking to lead an active and fulfilling life, our personalized approach will help you get there. Contact us today to take the first step towards reaching your performance and fitness aspirations. Together, we'll break through barriers, set new records, and ensure that you continue to excel in your chosen pursuits. Your performance potential is waiting to be unlocked, and we're here to help you make it a reality.
Request An Appointment
Please fill out this form and
we will contact you about scheduling. Shaina Rowland

My experience with Bret has been fantastic!! I injured my shoulder and it was difficult to do any of my normal workouts (getting older is over-rated:). After my first session with Bret I felt better and it has only gotten better each session. I can say with confidence that I am back to my normal activities. I would definitely recommend Bret to anyone. Andrey Rodriguez

If you are a lifter (or athlete) Bret is your guy! I had been training for a year for a weightlifting competition and I didn't think I would be able to compete after I had injured my leg. However, I had prepared for so long I was not going to let it stop me. Bret assessed my injury and prescribed a plan that got me competition ready and feeling stronger than before! He did such a great job at getting to the root cause and not just temporarily relieving the pain. I have been pain free since then and have been able to strengthen areas I had trouble engaging. I highly recommend Bret!